It seemed necessary to describe a few personal works and approaches towards a given logic of production, embedded in common formats. The projects Employer and Employee and Monday, Tuesday, Wednesday, Thursday, Friday will serve as examples. Often artistic production is initiated based on a response to a call, typically from an authority entitled to ask for a work for a specific context.
Several times, when he was visiting Toruń for research purposes, the responsible secretary at the CoCA Toruń showed him around and at some point after taking a taxi, explained to him a feeling that the whole town knew that she was divorced and a single mother. In the conservative Catholic context of Toruń, she described this as a stigmatised position. To make a long story short, below is a description of how his conceptual response to her story was communicated to the small staff in the office. We can try to imagine the following: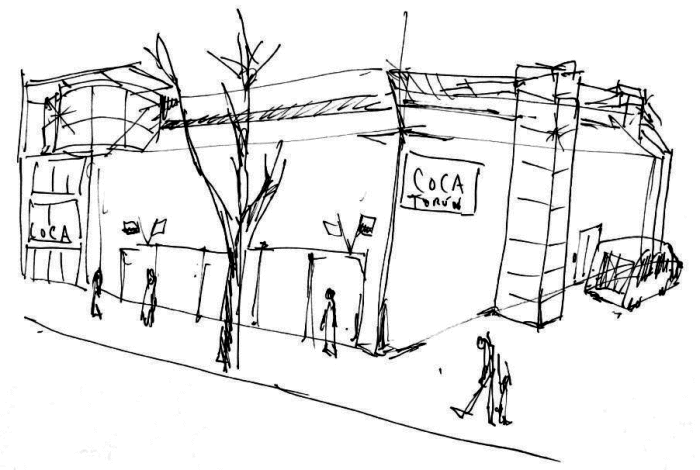 Employer and Employee was still a work in progress when for the first time it is presented to the leadership of the institution by the curator of the show.
The secretary (mentioned above) is in the office of CoCA Toruń and the director is there with her, both standing and busy discussing some details. The curator is there as well, since she has her temporary office desk in the same location. The whole new building complex including the CoCA is to be opened in less than 6 months and they recently moved into these offices. A technician is finalising some network installation in the corner of the room.
It is a small work group – at this point there isnobody apart from this core administration, the curator, and a board of directors. Everyone is working under pressure to get various infrastructures of the building ready and there is an even more intense focus on preparing for the very first opening exhibition, entitled Flowers of Our Lives, the main responsibility of our guest curator. 3 The guest curator walks over to the secretary and director. The director looks up in a welcoming manner, naturally taking the lead and asks: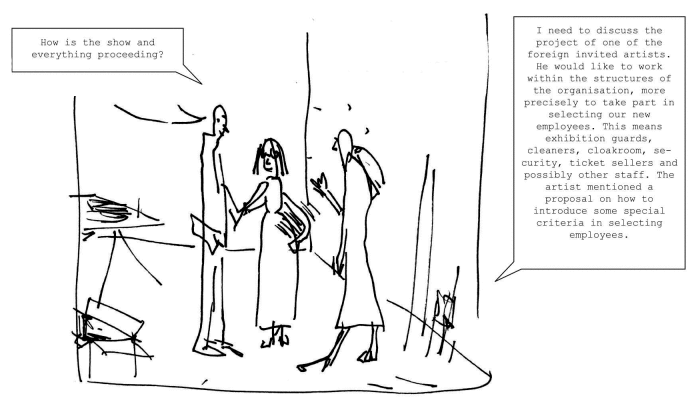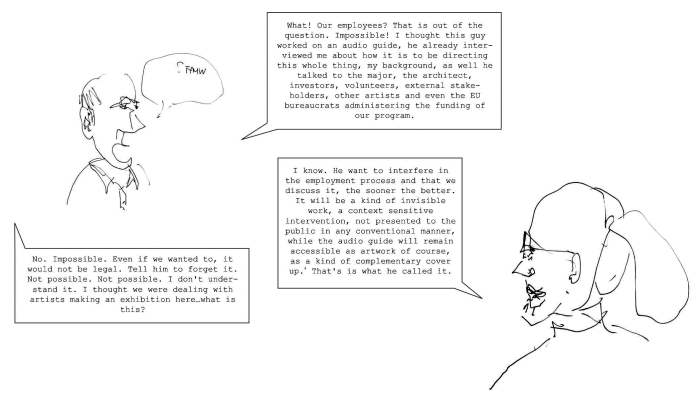 ( 4)
Meeting a temporary dead end in the office, extensive lobbying succeeded in pushing Employer and Employee through another channel. The intervention into the employment process of the CoCA Toruń was facilitated though members of the board, made possible under strict regulations. Engaging initially in screening processes and durational negotiations after employment interviews, they found ways to interpret and bend the juridical issues to enable the project.
The private consultant company working for the city of Toruń 5 managing employment to the public sector, accepted legal responsibility for an overall employment procedure that resulted in 11 single household divorced mothers getting a job at the CoCA Toruń. A rather high number considering all the applicants being screened initially and then interviewed for, in total, 47 mostly part-time positions.
The artist's agreement with the board of CoCA Toruń, the managing director and the curator in order to implement the project was to maintain a very low profile in terms of dissemination. Employer and Employee was, further, not to be formally presented for the first 4 following years, as a kind of quarantine of sorts. This to avoid legal misunderstandings, repercussions or other trouble for any of the persons involved on both sides.
New staff members employed under the particular criteria of being a single-mother by the time of employment (in addition to fulfilling the general qualifications for the job) should not be informed about the special circumstances in which they actually got their job. However, they realised early on themselves the large quantity of single-mothers within their small work force and shared interests in discussions during lunch and coffee breaks.
Employer and Employee is in practical terms still rendered by the employees themselves, in simply showing up at work, not knowing that their job constitutes a form of artistic labour, embedded within the structure of general public employment at the CoCA Toruń. The result is a dislocation of artistic production, within a non-artistic workforce. Using Employer and Employee as an example illustrates the importance of how information is distributed and the questions of visibility and transparency in allowing this work to come into existence.
Employer and Employee would not have been possible to carry out if the essence of the project had been announced before, during or immediately after realisation. Another point is the relation between a necessary critical distance to an observed conservative social reality and the decision to intervene in order to have an impact on this particular situation, rather than diagnosing the obvious through a critical, but merely formal installation. Care, beyond criticality.
Further, what kind of validity would Employer and Employee translate if we choose to interpret this as a model of locating artistic labour within a non-artistic work environment? An invisible employer being exposed while invisible employees (for the viewer) are performing the (invisible) work without knowing it. At the moment of writing, 5 of the 11 initially employed are still working at the CoCA Toruń. What keeps them going? 6 When does the work end?
Monday, Tuesday, Wednesday, Thursday, Friday
As the title suggests, this negotiated set of five successive working days was first associated with his participation in the Oslo based international residence program, W17.
The project Monday, Tuesday, Wednesday, Thursday, Friday set out to examine current perceptions about the type of work and logic of production associated with artistic practices. The idea was to locate specific working experiences in relation to artistic production per se. The project was elaborated in collaboration with the Norwegian Labor and Welfare Administration (NAV), formally serving as supplier of temporary staff. 7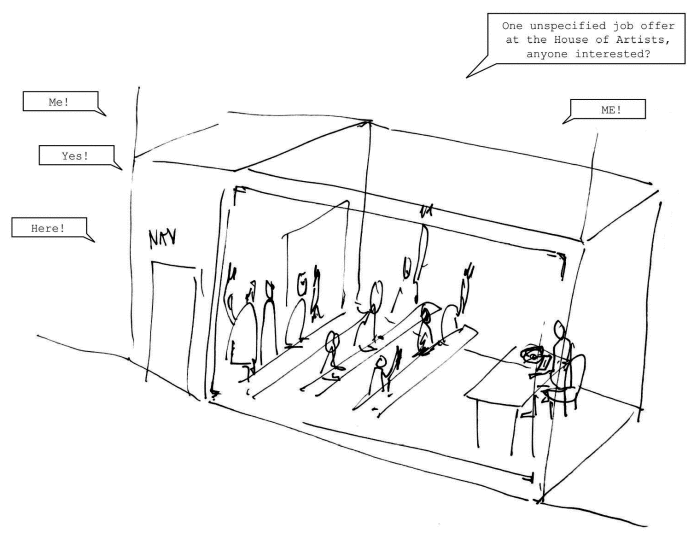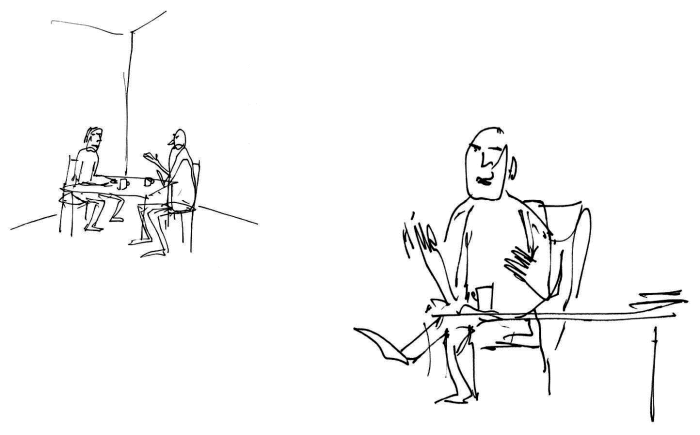 ( 8)
A systematic framework was put in place: a person would show up individually from the NAV day job distribution centre to the studio in W17, more or less every day. Not informed in detail on what the job actually would consist of, the meeting normally started by having a coffee or tea. During the first hour he would normally describe the open ended idea and a particular interest in contractual relationships. Then, more concretely about the project and the job itself; to discuss different aspects of work and to perhaps use this series of conversations if something (extra-) ordinary came out of all these meetings.
So, they talked, associated and articulated experience. Just sitting in that room. Apart from written notes, no documentation was done and they followed no schematic approach. Each meeting depended on that unique person and his own mood as well. If people did not like to talk after a few hours, then they wrote some poems, made drawings or just coloured some white sheets of paper. Basically, a group of random people hired to discuss understandings of work articulated in their own words. Overall, this resulted in 42 in-depth conversations with a variety of people over a period of 4 months. After their 4 hours, they each received their payment in cash. 9
Later, six conversations stood out for him as special after absorbing the 42 meetings. One photographic image was then conceived with a photographer for each of these, as a kind of extension of that particular conversation. The images depicted specific geographic locations functioning as a reference points, as a continuation of the conversations, translated into another modality. 10 The same people were contacted again and asked if they would be interested to continue the work from last time. To see "their" image, based on the previous conversation. This was almost a year later but the people hired at first all remembered well the previous conversations and accepted the proposal to continue "the job".
So, six people were individually hired in again, but this time to visit an exhibition. To see their own image, now hanging in a gallery. The exhibition was in Paris, so in order to see the particular image from the conversation, the task was to fly to Paris and "certify the image", to use the terminology applied in the gallery context. 11 Thus, the display of the photographs in the exhibition was adapted to accommodate these individual visits, one at the time, changing images accordingly within a period of time of six weeks. Nobody had seen the images beforehand and the task was simply to travel alone, stay in a hotel, go to the gallery and see their specific photograph. Then reflect on their travel experience and finally hand in a report of their thoughts and their experience on return to Oslo.
Reporting from Paris, a few excerpts: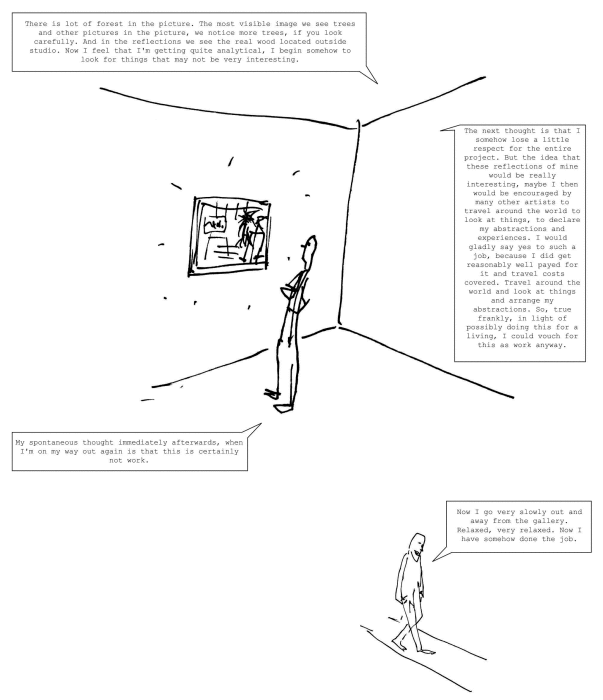 Monday, Tuesday, Wednesday, Thursday, Friday may cast confusion in terms of locating the artwork. Is it in the image? Or is it rather in the subjective experience of the person travelling, in the report? Or is it perhaps taking place in the reader as the story unfolds?
Notions of delegation, imagination and care may be foregrounded in the descriptions above. Delegation of performance in Employer and Employee takes place without consent and without obvious impact. Delegated authority and responsibility presented in Monday, Tuesday, Wednesday, Thursday, Friday was given form by reflecting aesthetically without being trained to do so and having to report on it. It is not a question of doing it well, succeeding, failing or performing. Whatever the outcome, to what degree is it rich or limited in articulation? What are their capacities to imagine? Why is that so? How is the travel experience communicated at home, over dinner, in the pub with friends?
Exploring modes of engagement within employment may be described as intermodal decentering. 12 Travelling to Paris to observe one single image, as in Monday, Tuesday, Wednesday, Thursday, Friday, involved a radical departure from most of the workers' ordinary life situations. Doing extraordinary work tasks abroad and articulating these. First from conversation to image. Then from image to journey and finally from travelling experience to report on reflection.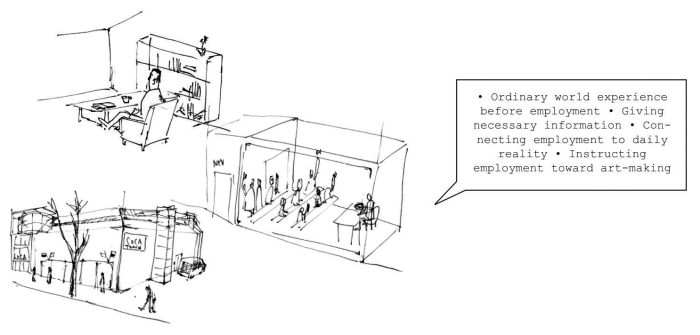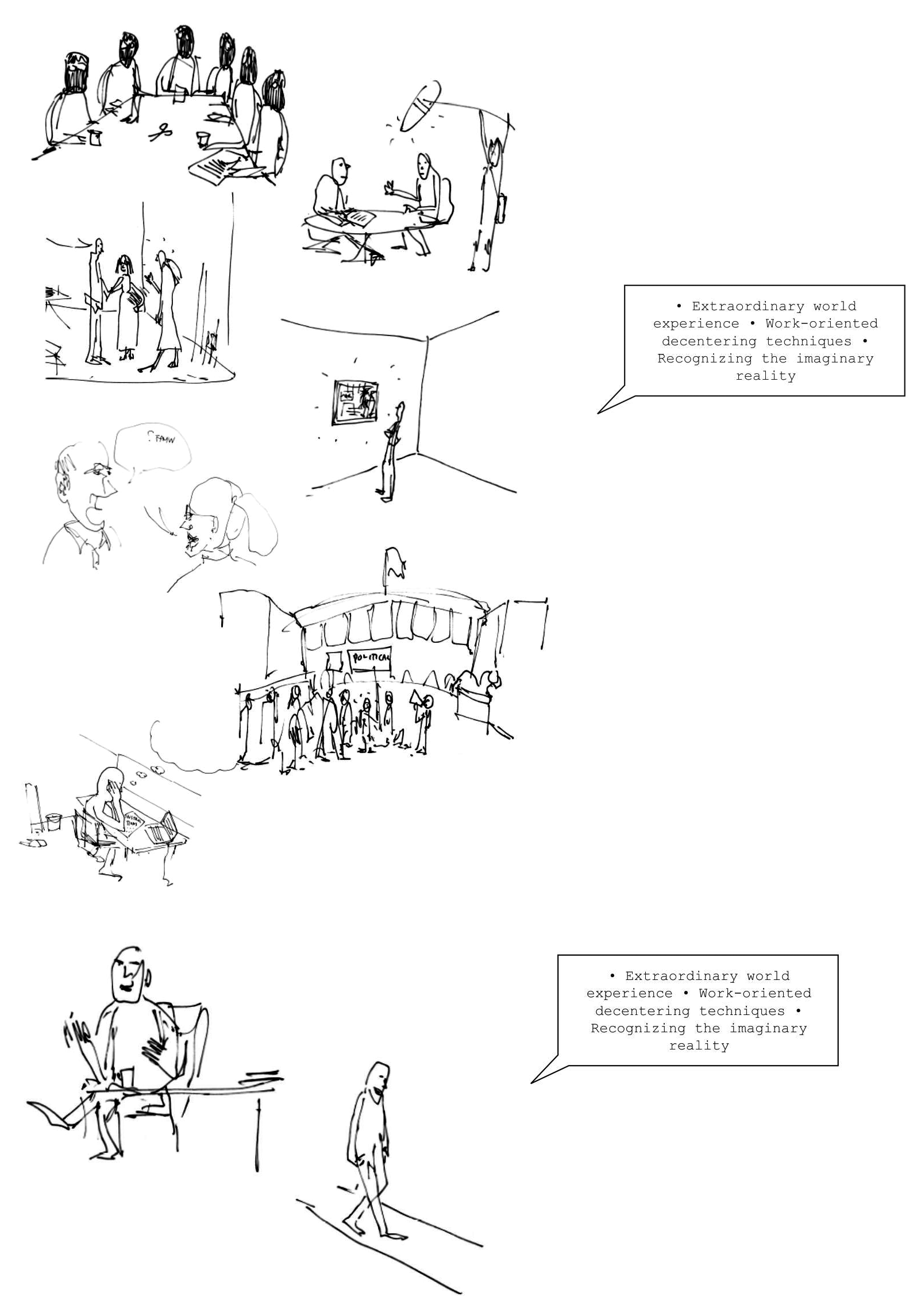 Working methodically with material from one modality to another, these transitions constitute a common framework, or pattern illustrated in the centre of this page. As well in the following described case studies, we find a setup for open-ended engagement, presented as possible sites for production. Common for these work-related case studies or proposals below, are their particular dislocation and limited information, making them difficult to describe.
Partly because they are in the making and not really «cases» to be studied from a distance or the outside. Partly because full transparency would make these situations vulnerable. Partly because the nature of the research remains uncertain, indicating a displacement from artistic practice to artistic research practice. Under these circumstances, to what degree is it possible to avoid being project-formatted, predictable and ultimately delusive?
Often descriptions of methodological approach seems to be misleading in terms of being misrecognised as topical frameworks.
The main focus is therefore rather to emphasise common grammar and aesthetic mechanisms, paying attention to inner perspectives and lived experiences. Central are how these situations are intended and influenced by the context and forums in which they eventually will be exposed and experienced.
Notes on unfinished work case study A: Anonymous work group
Developing a capacity to imagine things together as adults, or to take part in forming ideas or concepts is directly employed in this anonymous work group. Members of the group responded incognito to an anonymous ad in the main newspapers in Oslo.
For the last 8 months, this work-group has been meeting on a 4 to 6 weeks frequency, providing a continuous concrete feedback and developing a reflection on an artwork not yet made.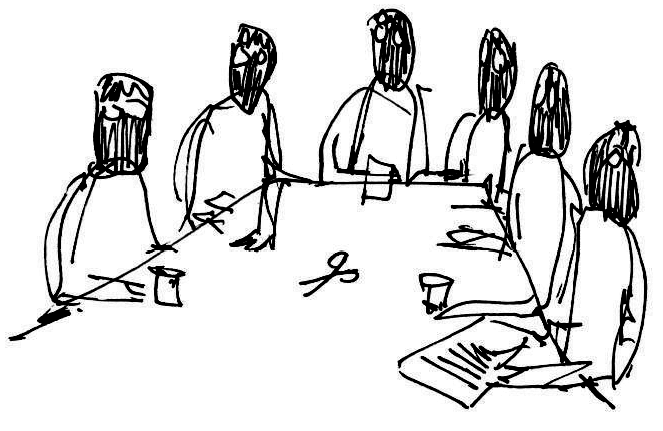 The individual members of the group are offered payment for their effort to engage. The intention is to keep this discussion group ongoing until the last phase of the formal quest in the project Work, work. 13 This group main target is to challenge the typical artistic practice accompanied by a complimentary critical reflection, being constitutive components in the Norwegian Artistic Research Programme. Will it prove productive to reverse reflection in which employment constitutes a significant role? If so, what kind authority does this question of co-authored research formally imply if when presented anonymously for assessment?
Notes on unfinished work case study B: Political membership
Mother, Dear Mother is a title of a research exhibition held at House of Artists in Oslo. 14 The work presented was based on systematically becoming a member of every major political party in Norway. This involved being engaged in social and political activities in the respective parties, both prior to and after the national election in 2013.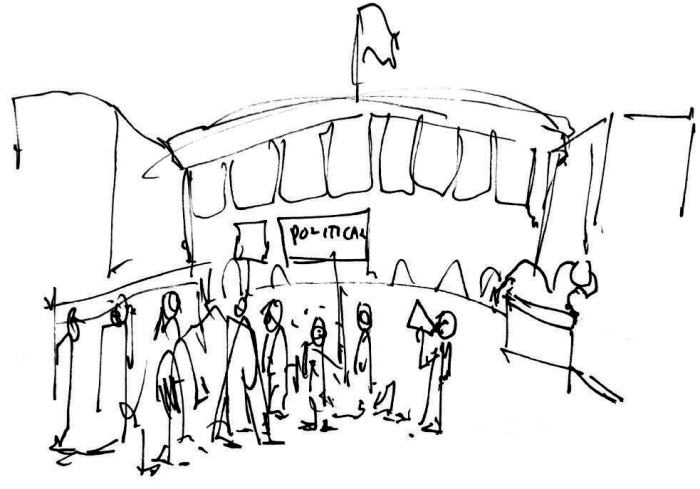 Mother, Dear Mother encapsulated an attempt to describe emotional experiences of a nation undergoing a political shift with a special focus on transformation of work. Through taking part in activities based on assumptions of a shared political commitment, spread out on the political spectrum, a sense of personal dishonesty developed, in not sharing project-driven motivations in the nomination of political representation and collective work undertaken in various political organisations. The entire exhibition is currently being configured into a film.
Notes on unfinished work case study C: Delegated autonomy
Employing two students with non-artistic bachelors to obtain a Master in Fine Art. Who is trained to produce and entitled artistic authorship? Is it possible to pay someone to undertake such an artistic process? If so, at what point do the employed (current MFA students) gain authentic ownership of the work, since interpretational efforts are central in all delegated work tasks?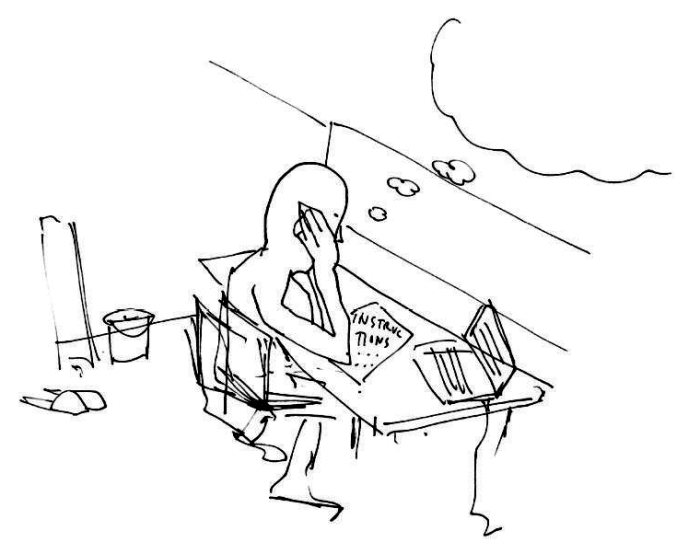 From a sense of alienation in making someone else's art as a job, to developing a personal ownership and possible autonomy including forms of negotiated resistance along the way. Currently operational and not published in detail to protect the students as workers and the case study in itself for not being interrupted. The engaged students are reporting on a regular basis both their experience as process and how they actually imagine their work to develop. Expected graduation will be in 2016 and afterwards the complete archive will be made accessible to the public.
Notes on unfinished work case study D: Dismissed competence
Dismissed competence is a series of narrative inquiries in form of interviews. The study includes a group of older people who all studied to become professional artists in a national art academy, but abandoned their profession and never pursued a career as artists. One focus is on how this particular competence may have leaked into other activities.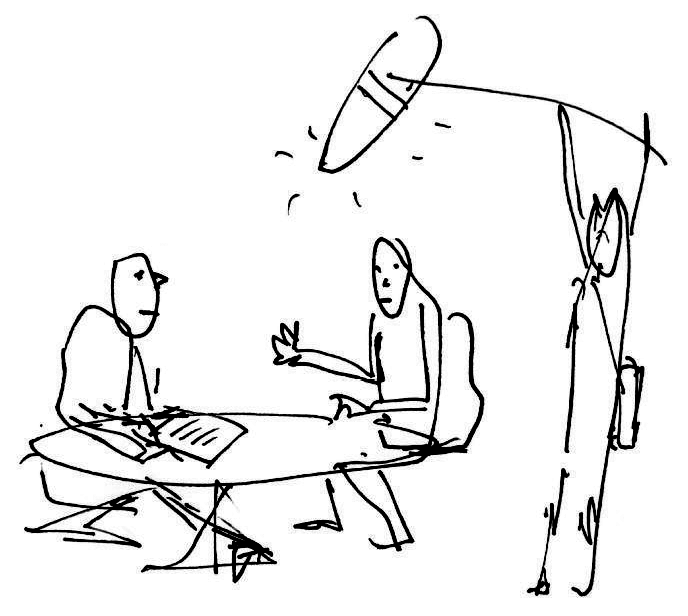 Another focus is to locate epistemological layers, not chronologically but through practicing an improvised emotional archaeology. This happens through language in addressing the experience of hosting personal and specialised competence never applied. How can competence be identified, articulated and described alternatively to the obvious narration the subjects already settled with? Outcome of these mutually constructed and repeated interviews will be made presentable and in some cases in collaboration with the interviewees themselves. 15