In his recent text Greece: The Courage of Hopelessness  1 , Slavoj Zizek suggests that the EU is pushing the Greek government into siding with extremists like Ukip and Le Pen, and conceding (literally) ground to Russia as to threaten the position of NATO in the region; these are the sort of questionable alliances which appear during war, when smaller or weaker combatants have to choose between equally bad but enemy gangs. As dying in isolation is no option, it seems one should anyway continue to play ruthlessly by the rules of the war game.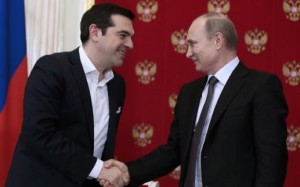 Pope Francis is quoted all around the globe every time he utters some progressive sentence. Liberation theology is supposed to bring the Church to the service of the poor. Orthodox priests in Romania opposed the mining exploitation from Rosia Montana, with an anti-corporation discourse, grafted onto their nationalist and xenophobic one (and during a break from building the biggest orthodox cathedral in Eastern Europe). The privileges of the Orthodox Church (i.e. its properties) are on the list of infamies Greece is supposed to correct to make the EU happy.
Romanian priests singing patriotic songs
during the anti-mining protests.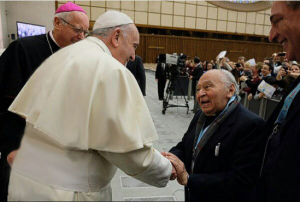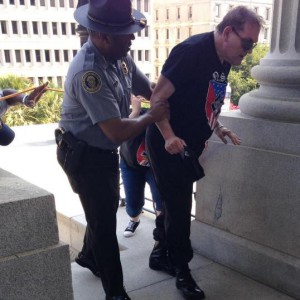 On the 20th of July 2015, during a Ku Klux Klan rally in South Carolina, a black police officer was photographed helping a white supremacist to take shelter from the heat. During the protests in Tahrir Square in Egypt, Christians and Muslims were protecting each other during their prayers.
If racial and religious dissensions can apparently or symbolically be overcome, at least in moments of crisis, what about the economic ones?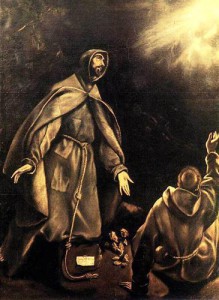 There is a widely circulated comparison concerning the level of one's salary in post-socialist Romania, bringing to light the fact that cleaning women in private companies earn more than state employees with university degrees (where of course the state has become a bad employer and education useless). The implicit subtext usually accompanying this comparison is that this is not a fair society because inferior work is rewarded more than that considered 'praiseworthy' .
In the future, this kind of inferior work will be rendered archaic by machines, with engineers and managers filling the only meaningful positions in society (and gaining accordingly). Attaching different values to different types of work won't change that vonnegutian future, so we should better start by questioning the notion of value altogether.
When governments are – willingly or forced – into siding with the oligarchs, artists should side with the poor. Not in content, not in aesthetics, but in political demands.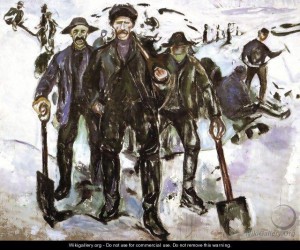 The first political demand should be economic equality. Artists should not be paid less or more than the cleaners of the institutions with which they are working and the cleaners should not be paid less or more than the directors and architects of those institutions or than those who sit outside on a bench in front of the institution. No alliances are strong enough if they are not made from the same economic position. No hierarchies can be truly dismantled unless they cease being based on economic disparities. Equal payment for women and for men might not dissolve patriarchy but it can certainly weaken it (and give women the independence of choosing their own roles). Equal income for migrants (be they refugees or wanderers) and for natives may not be the only step towards the elimination of borders but it can bring them closer to obsolescence.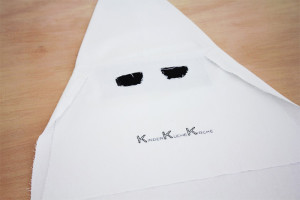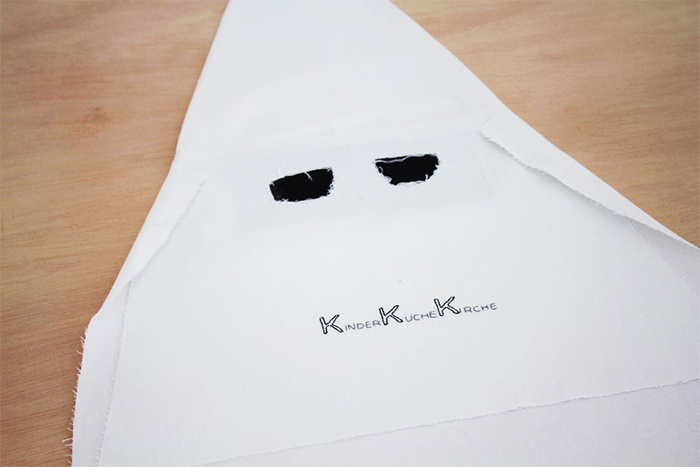 The poor no longer need someone else to speak on their behalf, they are tired of emphatic intellectuals preaching equity in comfortable universities (or in nice hotel conference rooms with constellation names); they don't need their portraits painted, when they hardly ever have the time or the means to visit a museum (in the fortunate case when the picture has ended up in a museum and not in a private collection); even less need they participatory projects in which they are expected to perform some kind of activity in exchange for the feeling they matter. The poor don't need their shelters and their outfits be imitated as artistic statements of kinship. They don't need to be represented or organized. They will represent and organize themselves as they please once they have the same economic situation as everyone else.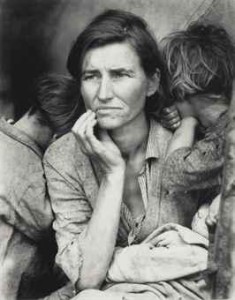 Art events are increasingly opening up to all burning issues, to all disciplines and to all those who envisage ways to use this chaotic moment of crisis in order to effect some more important change. Besides artists, architects and poets, more and more scientists, politicians and economists are invited in artistic frames or institutions to deliver their version of doom or of salvation. The former mayor of Bogota, Antanas Mockus participated in the Truth is Concrete marathon in Graz, Austria. The former Tirana mayor and current prime-minister of Albania, Edi Rama delivered a presentation at Creative Time Summit in Stockholm and the current president of Afghanistan, Ashraf Ghani had a conversation with his artist-daughter during Creative Time Summit in Venice. Yannis Varoufakis is invited to the next Moscow Biennale. Stars and leaders of every discipline, of every movement of dissent or reorganization, grass-roots or state-protected, long-lasting or short-lived, experimental or mainstream, resilient or just hype, performers or informers, they are all invested with aesthetic aura and brought into the spotlight of the great scene of art. Most often these events are for specialized, spoiled audiences who are fed with ever new theories, concepts, faces and image; inspired by so much knowledge, energy, exoticism and determination, but rarely converting this inspiration into more than small talk for the coffee or Prosecco break. Hardly ever however is anyone invited to such sublime gatherings from among those who clean the floors and the toilets, who arrange the electricity cables or turn on the air-conditioning, or even from the interns who print the programme and make the coffee. Their view on the world is not interesting, they probably don't know how to put together a powerpoint and include some jokes in-between the slides, they have generic names and probably hate those who keep them overtime with their 'one more question to address' or 'one more glass of wine to finish'. They can provide neither instruction nor entertainment, they cannot sell tickets from another position than at the counter, they don't know who the curator of the next big biennale is unless they park his car and generally they should stay content to be the statistics; the invisible many.
Therefore, when imagining any sort of alliance, union, party or collective organization, artists and cultural workers (the many who are proud of this name, refusing to be decorators or consultants for the rich or entertainers for the privileged) should ask themselves who's reading their statements? Who's benefiting from their resolutions? Who's using the megaphone? Who's getting an administrative office? Who's representing and who is present? But also: who is washing the floor after their meetings? Who will use the organizational models they instate? Are they protecting more than just their profession's interests? And, not least, whom do they want as their allies?